C0LLECTIBLES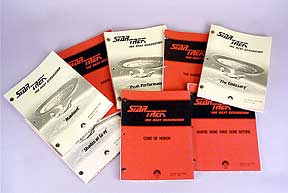 Star Trek: The Next Generation Original Scripts for Sale
All scripts were my original desk copy, delivered personally to me (and every crew member) each week by the script department. They are between 45 and 60 pages each, depending on how many "A" or "B" pages (extra pages, some only a line or two) were added.
Many contain scenes that were filmed but later edited out of the final air version of the episode. These scripts are NOT REPRINTS.
They contain all of the multi-colored pages that were given to us each time a scene was rewritten. Sometimes only one word was changed; you can tell which lines had change on that page by the *asterisks* in the margins.
ALL ITEMS COME WITH A CERTIFICATE OF AUTHENTICITY, SIGNED BY SUSAN SACKETT ON HER PERSONAL
"From the Desk of" STATIONERY!
Encounter at Farpoint - Season 1
$75.00 + $5.00 shipping

The Naked Now - Season 1
$50.00 + $5.00 shipping

Where No One Has Gone Before - Season 1
$50.00 + $5.00 shipping

The Last Outpost - Season 1
Lonely Among Us - Season 1
Hide and Q - Season 1
$50.00 + $5.00 shipping

Too Short a Season - Season 1
The Big Goodbye - Season 1
$50.00 + $5.00 shipping

Datalore - Season 1
$50.00 + $5.00 shipping

11001001 - Season 1
$50.00 + $5.00 shipping

When the Bough Breaks - Season 1
Coming of Age - Season 1
$50.00 + $5.00 shipping

Heart of Glory - Season 1
$50.00 + $5.00 shipping

The Arsenal of Freedom - Season 1
Skin of Evil - Season 1
$50.00 + $5.00 shipping

We'll Always Have Paris - Season 1
Conspiracy - Season 1
$50.00 + $5.00 shipping

The Neutral Zone - Season 1
The Child - Season 2
$50.00 + $5.00 shipping

Where Silence Has Lease - Season 2
$50.00 + $5.00 shipping

Elementary, Dear Data - Season 2
$50.00 + $5.00 shipping

The Outrageous Okona - Season 2
The Schizoid Man - Season 2
Loud as a Whisper - Season 2
Unnatural Selection - Season 2
The Measure of a Man - Season 2
$50.00 + $5.00 shipping

The Dauphin - Season 2
$50.00 + $5.00 shipping

Contagion - Season 2
$50.00 + $5.00 shipping

The Royale - Season 2
$50.00 + $5.00 shipping

Time Squared - Season 2
$50.00 + $5.00 shipping

The Icarus Factor - Season 2
Q Who? - Season 2
$50.00 + $5.00 shipping

Samaritan Snare - Season 2
Up the Long Ladder - Season 2
The Emissary - Season 2
$50.00 + $5.00 shipping

Peak Performance - Season 2
Shades of Grey - Season 2
The Ensigns of Command - Season 3
The Survivors - Season 3
$50.00 + $5.00 shipping

Who Watches the Watchers? - Season 3
The Bonding - Season 3
$50.00 + $5.00 shipping

The Price - Season 3
$50.00 + $5.00 shipping

The Vengeance Factor - Season 3
The Defector - Season 3
$50.00 + $5.00 shipping

The High Ground - Season 3
A Matter of Perspective - Season 3
Yesterday's Enterprise - Season 3
$50.00 + $5.00 shipping

The Offspring - Season 3
$50.00 + $5.00 shipping

Sins of the Father - Season 3
$50.00 + $5.00 shipping

Captain's Holiday - Season 3
Tin Man - Season 3
$50.00 + $5.00 shipping

Hollow Pursuits - Season 3
Sarek - Season 3
$50.00 + $5.00 shipping

Menage a Troi ORIGINAL UNAVAILABLE Menage a Troi WHITE pages/reprint signed by Susan Sackett - Season 3
Transfigurations - Season 3
The Best of Both Worlds (Part 1) - Season 3
$50.00 + $5.00 shipping

The Best of Both Worlds (Part 2) - Season 4
$50.00 + $5.00 shipping

Suddenly Human - Season 4
Brothers - Season 4
$50.00 + $5.00 shipping

Family - Season 4
$50.00 + $5.00 shipping

Reunion - Season 4
$50.00 + $5.00 shipping

Future Imperfect - Season 4
$50.00 + $5.00 shipping

The Wounded - Season 4
$50.00 + $5.00 shipping

First Contact - Season 4
$50.00 + $5.00 shipping

Galaxy's Child - Season 4
Night Terrors - Season 4
$50.00 + $5.00 shipping

Identity Crisis - Season 4
The Nth Degree - Season 4
The Drumhead - Season 4
$50.00 + $5.00 shipping

Half a Life - Season 4
$50.00 + $5.00 shipping

The Mind's Eye - Season 4
Redemption (Part 1) - Season 4
$50.00 + $5.00 shipping

Redemption (Part 2) - Season 5
$50.00 + $5.00 shipping

Darmok - Season 5
$50.00 + $5.00 shipping

Ensign Ro - Season 5
$50.00 + $5.00 shipping

Silicon Avatar - Season 5
The Game - ORIGINAL (with color pages ) UNAVAILABLE; The Game - WHITE pages only (reprint) signed - Season 5
Unification Part 1 - Season 5
$50.00 + $5.00 shipping

Unification Part 2 - Season 5
$50.00 + $5.00 shipping

A Matter of Time - Season 5